Geopolitical Update : A strange kind of housing crisis, a government-orchestrated one
By Christian Takushi, Macro Economist – 21 Sep 2021
A strange kind of housing crisis is unfolding across the Western world, and our analysis strongly deviates from what consensus is embracing and advancing as a solution: more government intervention.
There are many things happening around the world that we are monitoring and where our analysis deviates from consensus, but we think this issue is a highly important one that deserves your attention.  Why? The current coverage is misleading. Moreover, the current housing crisis is likely to thrust Western democracies into a political disarray that will allow governments to seize control of one of the most important sectors of the private economy: the housing market. The implicit hypothesis paddled around the world is that markets have failed, thus the state needs to intervene (again).
EU House Price Index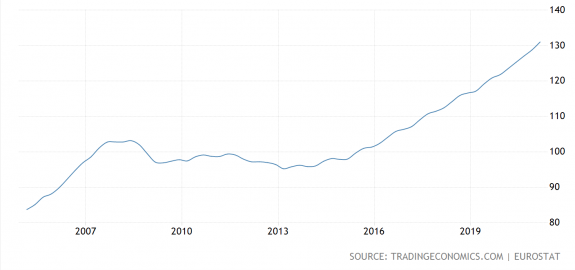 On multiple media platforms experts and commentators are informing people about the current housing crisis engulfing most Western economies: Many reasons are given while sympathy is expressed. But most of these articles have in common that they tend to imply or suggest that markets has failed or that the lack of affordable housing construction is at the centre of the problem. Governments should build more, confiscate private property or give bigger handouts: "More government intervention is needed" (like in Berlin recently).
The culprit: Just like in 2008, the government
I find the current well-meaning media campaign somewhat worrisome and misleading. Why? It is excessive government intervention that got us here. Thus, just the opposite of what is being suggested.
Remarkably, it is just like at the onset of the Great Financial Crisis: Thousands of so-called experts and journalists said "markets have failed, we need more government intervention and regulation". Very few told the unpopular truth: It was massive US government meddling into the housing market that led to the Sub-Prime disaster.
Which government branch? Central Banks
Any seasoned economist will tell you that the current crisis is somewhat unprecedented. Simply put, no social housing construction program could have ever kept up with "money printing" by central banks over the past 20 years. While a few more social housing programs would have been good, their lack is not the main issue.
As usual, a crisis is the result of a confluence of factors – but chief among them this time is central bank policy. Central banks have orchestrated and propelled this gigantic housing bubble by printing huge amounts of money since 2009 in order to purchase bonds and force investors into buying stocks and real estate. Those that didn't were brutally "punished". Thus, dwarfing all other factors, governments have driven up the house prices. This is a policy-made crisis!
Policy makers not only induced investors to buy real estate, they lent them gigantic amounts of money at near-zero rates to do it aggressively. To suggest that market have failed is not only wrong, it is misleading.
Don't lay all the blame on central banks
Of course, G7 policy makers have had to respond to the refusal by consumers, investors and retirees to accept recessions and pain over the past 25 years at least. Developing nations have behaved much more responsibly during that period, allowing their citizens to experience pain and refusing to print money to cover up their problems. Thus, while there is an element of systemic-collective failure among developed nations, the main driver of a bubble should not remain conspicuously absent from elaborate articles in the press.
This topic will weigh heavily in the political process of key economies in the coming years.
.. text truncated ..
If you would like to read the full report, kindly contact info@geopoliticalresearch.com or subscribe to our geopolitical newsletter here on this website
By Christian Takushi MA UZH, Independent Macro Economist & Geopolitical Strategist – Zurich 21 Sep 2021 (delayed adapted public release )
Disclaimer: None of our comments should be interpreted or construed as an investment recommendation
Note: If you are not a qualified investor, you should consult a professional investment adviser before making any investment decisions
A distinct broad approach to geopolitical research
(a) All nations & groups advance their geostrategic interests with all the means at their disposal
(b) A balance between Western linear-logical and Oriental circular-historical-religious thinking is crucial given the rise of Oriental powers
(c) As a geopolitical analyst with an economic mindset Takushi does research with little regard for political ideology and conspiracy theories
(d) Independent time series data aggregation & propriety risk models
(e) Takushi only releases a report when his analysis deviates from Consensus
The exodus from the Northern hemisphere is coming.
Independent Global Geopolitical & Macroeconomic Research 
(www.geopoliticalresearch.com is one of the 50 most reliable sources of geopolitical analysis worldwide)
By Christian Takushi MA UZH, Independent Macro Economist & Geopolitical Strategist – Zurich 21 Sep 2021 (delayed public release)
Disclaimer: None of our comments should be interpreted or construed as an investment recommendation
Note: If you are not a qualified investor, you should consult a professional investment adviser before making any investment decisions
A distinct broad approach to geopolitical research
(a) All nations & groups advance their geostrategic interests with all the means at their disposal
(b) A balance between Western linear-logical and Oriental circular-historical-religious thinking is crucial given the rise of Oriental powers
(c) As a geopolitical analyst with an economic mindset Takushi does research with little regard for political ideology and conspiracy theories
(d) Independent time series data aggregation & propriety risk models
(e) Takushi only releases a report when his analysis deviates from Consensus